Hi all,
Wanted to give you an update on what's been going on as of late.
Recording:
The three of us–me, Dave and JJ–went back into Sonelab on October 20 and spent the week and weekend putting down the music to ten songs that will be our next album, titled, The Black Sky Sequined.
We're working with esteemed engineer, Mark Alan Miller again. I've worked with Mark on many projects over the past twenty years, including Soup's very first cassette! That would be, of course, Mountain Funk (1993) which we recorded at Wendell Recording Studio. Soup was me, Terry Flood, J Scott "Bow Bow" Brandon, Steve Sanderson, and Paul Reynolds. Paul would eventually leave Soup; Soup would eventually become Drunk Stuntmen and the rest, as they say, is history.
Mark was in an industrial band back in the 90s called Vein Cage. I worked with the bands frontman, Pater Disparia (a/k/a Peter Dinardi), and he gave me this shirt c 1994. It is a happy tradition that I wear this now-oversized and holey shirt on the first day of recordings. And so it goes.
But it was great to pack up the Forester and head over to Easthampton.
The studio is a nice size and it being an old mill gives me a sense of place, being a boy from "Spindle City" or Fall River, Mass.
And on this rug would soon be one JJ O'Connell, sick as a dog but here nonetheless to make music. 
And Dave would set up, too, of course. But I have no pictures to prove it. You'll just have to believe me.
And I would get my little room to make a mess in.
Tom Adams was around to document the first day of recording. 
We blasted through nine of the ten tunes on the very first day.
And then tackled the last tune, "The Cycle" on Tuesday.
It's interesting to note how different things felt for this session. Because when we recorded our first album the band hadn't even played a proper gig. So now, 18 months, ten new songs and lots of gigs later it really feels like a "band" and not just a project. So the sounds came together with a little more confidence and the arrangements were a little less impromptu. Not to say they don't have the same spirit as the first album. It's just a natural progression. And working with Mark was and is a breeze as always.
Scarves were worn.
Amps I have never-in-a-million-years-heard-of were used.
And lots of great tracks were laid down. Here's me with my trusty Hahn 228.
Here's just a taste of one of the songs, "Telephone" from the sessions:
And so we tracked on Wednesday, Thursday and Friday. On Saturday we rested.
And then, on Sunday, we brought in Tom Mahnken, Nick Borges, Terry Nagel, and Dave Trenholm to put horns on "Telephone." Dave composed a fantastic score for the horn players. He is also responsible for the string score on "Temporary Occupation" from the first album.
From l-r: Terry, Nick, Dave, and Tom.
And I never want to forget who I'm doing this for.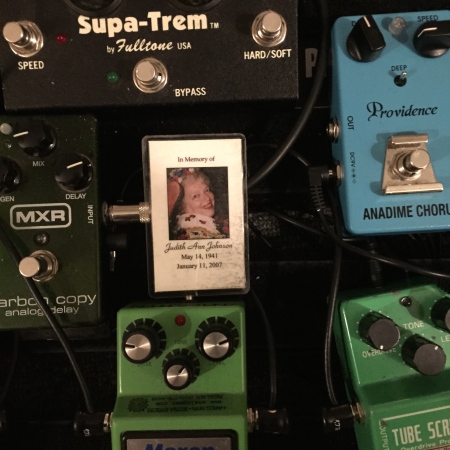 This is my mom. And she is the person responsible for the title of the upcoming album. It come from a poem she wrote that I included in the liner notes on the first album:
Then it began
Rockets. Stars. Flowers blooming
The black sky sequined
Reds, yellows, blues, greens.
Silver and gold.
Fireworks and the cheers of spectators.
So I do it for me. I do it for Jodi. I do it for you, the fans. But most of all, I do it for Judy.
Miss you, Mom. Always.
So we finished up the week and gave ourselves some time to digest the mixes.
Tomorrow (Monday) I'm going back in to sing for a couple of days. Dave and JJ will come in to do backup vocals and some percussion. And we hope to be mixing by Wednesday or Thursday.
This is going to be a much different album than the first one. It's a more cohesive work. It has a bit more direction. It's got more energy, more confidence and more stamina.
I really think you're all going to like it. We shall see.
The release date for The Black Sky Sequined is Tuesday, May 5, 2015.
You can mark Thursday, May 14 at 8:30pm (would be my mom's 74th birthday) for our album release at the Iron Horse Music Hall. We will have CDs and vinyl copies available. I promise.
Speaking of New Gigs!
That's right. We have some new gigs added to our tour dates page.
Friday, December 12 we will be playing at The Basement in Northampton. This is a free show (tips are appreciated, so save a fiver) and an early one. Starts at 8pm and we'll be doing two sets. The first set will be most of the debut album and a couple of Stuntmen tunes. The second set will be the whole new album in its entirety. Should be a fun show. Here's the Facebook event. Please sign up if you think you can make it.
We're thrilled to be part of Northamtpon's First Night festivities for the very first time. We will be playing in the beautiful 400 cushioned seat Theater 14 at the Mendenhall Center for the Performing Arts on Green Street at Smith College. Here's all the info on the performances to plan your night.
Of course our first Boston area gig is still on for Saturday, November 22 at Cambridge's Cantab Lounge (downstairs at Club Bohemia). And why not give you a Facebook event page for that, too? And you know that guy, Paul Reynolds I mentioned a while back? The old drummer for Soup? Well, his band Mercury on Mars is playing that night. So be sure to get there early. They go on at 10pm. And plan to stay late as we go on at midnight.
We just crested 500 likes on Facebook, as well. This is a big milestone for us and, as a new band, couldn't be happier. If you're not already a fan on FB why not head over and like us? Here's the link.
So there you go, gang. Lots of great stuff going on. Including working with our old pals, Pietro Spica and Laura Nugent for the artwork.
We should have a new video up in a day or two from our last gig at Luthier's Co-op. Stay tuned for that.
As you can see, lots of great things are happening. So glad you all chose to be part of it.
As Frank once said, music is the best.
And so it is.
And on we go.
Cheers,
~FAJ