Interview in Punk Globe Magazine by Ginger Coyote
Getting It All Straight
An Interview With
Alex Johnson Of Colorway
Originally published July 1, 2018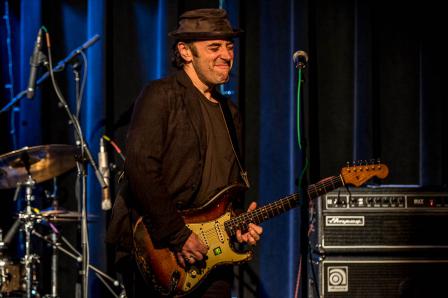 Photo by: Seth Shapiro/RockShowPix
Punk Globe: Thanks for the interview. Can you give the readers some background about yourself?
Alex: Well, I'm a spry 48 years old and have been playing music since I was in first grade. Started out on the recorder and moved up to violin. In the 1970s there was an amazing music program in the public schools in Fall River, Massachusetts (where I'm from) and I was lucky enough to have a very supportive family. The violin got me out of plenty of classes that I probably should have been present for. But, you know, it's the violin. It's badass to carry a black, hardshell case when you're seven. Plus, I plastered it with Harley Davidson skull stickers. Yeah, it was a wild time. Played in my fair share of high school cover bands, then I dove in headfirst into the Portuguese Wedding Band scene (see pic below). Made some decent money as a teenager and drank my fair share of port wine while kopping the musical stylings of Ritchie Sambora and others. Moved to Western Massachusetts (Northampton, specifically) in 1991 and started a group which eventually became the band, Drunk Stuntmen. Toured with them nationally and abroad for 15 years and put out seven albums. Honed my songwriting craft and learned how to live on the road. But through a series of live changing events (mom and aunt dying and general health stuff) I had to give up drinking and all the other stuff. Left that band and got clean and sober. Started this band, Colorway withsome friends and ex-bandmates and I'm just trying to keep pop and rock alive while playing the shit out of my guitar. Oh, and in 2004 I joined the Young at Heart Chorus who are a group of senior citizens (entry age is 74) and have been traveling the world with them ever since. They had a movie made about them for the BBC that eventually got picked up by Fox Searchlight. That got me onto the Tonight Show and Ellen and all kinds of other cool stuff. Definitely been one of the best things I've ever been a part of. So unique and always in flux. Safe to say the group of singers has few original members since I joined 14 years ago . . . but there are a few that are still kicking and belting it out.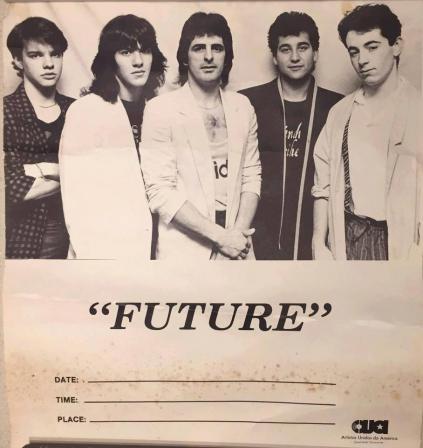 Punk Globe: How long has Colorway been together?
Alex: Going on six years this winter.
Punk Globe: Who is in the band and what do they play?
Alex: The band formed in 2012 with original bassist Dave Hayes and drummer J.J. O'Connell. Both of those guys departed (amicably) in 2015, shortly after our second album was released. Matt Clegg and Riley Godleski stepped in and filled their shoes on bass and drums/vocals respectively. I play guitar, sing and write the words and music.
Punk Globe: Tell us how you came up with Colorway for the bands name?
Alex: Well, I'm lover of fashion. Though I wear black most of the time I do appreciate shades of grey and, really, all the other colors of the rainbow. I feel like each note, each chord and each song has a distinctive color—a way it makes you feel when you hear it. And depending on how they are arranged they could make you happy, sad, melancholy, etc. So their "colorway" is what is presented to the listener in my head. I thought it was also a fairly neutral word and so the music, I hope, will attach meaning to the name, not the other way around.
Punk Globe: Who has influenced the bands sound? I have read comparisons to The Moody Blues?
Alex: I do love British Rock. But I'd say the sound is more reminiscent of The Cars crossed with Pink Floyd's more pop side. I really like the idea of integrating inventive and emotionally driven guitar playing inside of a memorable song. Pop is awesome. Guitar rock has it's awesome qualities but it's not for everyone. I try to combine the two and I hope that's what the listener hears when they play our stuff.
Jimmy Page, Richard Thompson, Nels Cline, XTC's Dave Gregory, David Gilmour, Eric Johnson, Elliot Easton, and, of course, Ritchie Sambora. I dunno. I dig them all.
Punk Globe: Tell the readers about The Independent Music Award that you won Alex?
Alex: I was asked to be part of a spoken word album called Action Moves People, which is a non profit organization who strives to encourage people of all ages from all around the world to help each other through the challenges of life. The charity is called Move This World and it is made up of over 10,000 individuals across 22 cities and 4 continents. The piece of music I wrote is for a poem called "The Human Race" by Karelleyn Brae Wade. I play the solo guitar for it and provide the spoken word reading.
Punk Globe: How many releases do you have out?
Alex: These Are The Days will be our third full-length album.
Punk Globe: Does the band tour a lot?
Alex: We have done a few national tours as a band, in both iterations. Right now I'm focusing on the northeast and building some interest in what we do near where we live. But I also tour on my own with this music. I was recently on a tour in Japan as well as The Netherlands, where I played small clubs and radio stations as well.
Punk Globe: Alex, were you on The Tonight Show and Ellen? Tell us about that.
Alex: This was part of the Young at Heart Chorus movie, "Young at Heart" which was a BBC documentary that was released by Fox Searchlight about ten years ago. We were flown to LA and got to be on the Tonight Show with Jay Leno as well as Ellen. Pretty amazing experience. The other guest on the Tonight Show was Charles Barkley and Ellen had on America Ferrera and SuzanneSomers. I got to give Ellen a kiss on the cheek. Her skin was so soft I almost cried.
Ellen had the most amazing backstage food. Jayhad stale bagelsand jam. That's showbiz.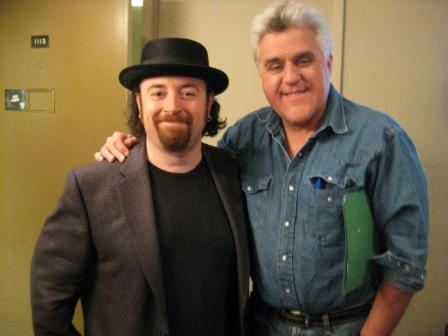 Punk Globe: Do you also perform as a solo artist?
Alex: I do (see above). Me and my guitar go just about anywhere. Sometimes I use a looper pedal to lay down the rhythm tracks and that lets me solo over them
(which I like to do). But the song has to stand on its own, I try to always remember that. I need to be able to sit in a tiny room with an acoustic and play a song and have it be enjoyable for whoever may be in earshot. That's the goal anyway.
Punk Globe: What is in store for Colorway in the future?
Alex: Well, right now we're focusing on thisalbum and hoping to get it in the ears of as many people as possible. I think the story the nine songs tell may be of help for some people who are struggling with the crazy world we live in. Time is an illusion, just like so much of what our brain sees and takes in. I've been through the wringer in years gone by. I almost didn't make it through. It happens to the best of us and it's happening to people I know right now. But none of what we see, hear, feel . . . any of it . . . ispermanent. At least from where I stand. I know that I feel different when I go to bed than when I wake up in the morning. Sometimes it's a good feeling and other times I wonder why I even try anymore. But I know that I'll feel different soon enough. I wish some of my friends who aren't around anymore could have glimpsed that idea. It's not science or anything I can prove. But I feel it day in and day out. It keeps me going and it keeps me sane.
The album is called These Are The Days and it features Chris Collingwood from Fountains of Wayne/Look Park on backup vocals. The songs kind of follow a bit of a midlife crisis—from the wondering-if-this-is-it to finding excitement in somebody who may be a bit of an ill fit for seemingly all the right reasons, to the eventual downfall and dalliance with substances, the internet, all that stuff. And then the eventual recover and hope for the future. I dunno. It may sound corny but there is a lot of reality and passion in the words and music that I think you need to hear for yourself.
Punk Globe: Do you have any Internet addresses that you would like to share with the readers?
Alex: Thanks for asking!
Our homepage is:www.colorwaymusic.com
You can search for us on Twitter, Facebook and Instagram @colorwaymusic
Our Bandcamp page is at http://www.colorway.bandcamp.com
And we have videos up on our YouTube channel at
http://www.youtube.com/colorwaymusic
Punk Globe:Describe yourself in three words?
Alex: Intense Rock Style
Punk Globe: Any last words for Punk Globe readers?
Alex: Music is the best.
Thank you so much for taking the time to ask me about my music and why I do what I do. Most days I wonder myself, so it's good to be able to ask my own brain "what the hell are you thinking?"
Interview With F Alex Johnson In The New Bedford Standard-Times
By Lauren Daley
Originally published Apr 26, 2018 in The New Bedford Standard-Times
This is going to sound like clickbait, but I asked Alex Johnson about his Fall River roots, and his answer will blow your mind…
Seriously, though, I asked the frontman for indie band Colorway about his SouthCoast childhood.
"I was born on May 9, 1970 in Los Angeles in secret," he said.
This already sounds like the voice-over at the start of a movie.
"My mother met my father … in Colorado, and they had a whirlwind romance in the summer of '69. My mom wanted a child but had no interest in a husband, and my father was already married so, you know, to keep things simple, they made a pact to go their separate ways after I was conceived.
"Somehow my mom hid her pregnancy from everyone — or so she thought — and drove to my aunt's apartment in San Diego at nine months pregnant with her trusty dog, Bonnie, by her side," he continued.
"She had me in May and came back to Fall River with a surprise for the family, not knowing if she'd be disowned. The exact opposite happened. We were welcomed with open arms. I was raised with so much love."
…. Now that's an amazing answer to a standard question.
Johnson now lives in Northampton and fronts the fantastic indie rock trio Colorway, rounded out with Riley Godleski (drums/vocals) and Matt Clegg (bass). They play their first-ever New Bedford show Saturday at The Pour Farm.
Bonus: It's free. As in $0.
Their third album "These Are the Days," which drops June 21, is their strongest yet. Featuring Chris Collingwood (Fountains Of Wayne) on backup vocals, these are the songs you want to drive to on a summer day. Songs to put a smile on your face. Like many old tunes, there are sad lyrics, but sung in a way that you're singing along despite it.
Colorway has opened for The Yardbirds, The Kenny Wayne Shepherd Band, Foreigner, Ian Hunter, and played with local talent Quinn Sullivan, among many others.
Johnson is also a member of the Young@Heart accompanying band. He was in the 2007 award-winning documentary "Young@Heart," about the Northampton chorus, whose members, with an average age of 81, cover Sonic Youth and The Clash among other rocking tunes. Johnson appears in the film, and played "The Tonight Show With Jay Leno" and "Ellen."
Johnson grew up in Fall River, and started playing music at age 10. He cut his teeth in Portuguese wedding bands, and remembers well the famous Lobster Newburgh at the Venus di Milo.
He grew up near Marcucci's, so I had to ask: Marzilli's or Marcucci's?
"Marcucci's for pizza, Marzilli's for stick bread."
(Readers, let the debate begin!)
At Bishop Connolly, the '88 grad formed his first band, Atria. He completed a few semesters at SMU (now UMass-Dartmouth), before following his "then-girlfriend to Northampton [where] original music was everywhere — still is. I'm lucky to have found this little area behind the Tofu Curtain: full of progressive thinkers, free spirits and some of the best asparagus in the world."
What does he miss most about SouthCoast, behind the Chourico Curtain?
"Coney Island sauce. Nobody has a clue about that west of Pawtucket," he said. "So many things nobody has a clue about here. Elastics, bubblers, stuffies, Al Mac's — these are things I will always hold dear."
Elastics?
"That's what I always called rubber bands," he explained.
Wait, I thought everybody did… Who knew that was a SouthCoast term?
I asked the Spindle City kid if he has New Bedford memories.
"I used to play in some of the clubs in New Beige; I think most are gone now. And I had one of my very first attempts at a kiss at age 12 on a field trip to the Whaling Museum. Talk about romantic. Spears, giant jawbones, blubber, chum — might as well go in for a smooch. Denied."
Ha! Love it.
According to the band's bio, Johnson formed Colorway in 2012 after "getting clean and sober in 2008."
Johnson said a DUI was his wake-up call.
He left Drunk Stuntmen, his band of 17 years, "shortly after getting my second DUI and getting sober…The ideas just sort of built up and built up, and in 2012 it all came to a head. I needed an outlet for them so I put this band together and started the process of making our first album."
As for the band name?
"I dig fashion. And in the fashion world — particularly in sneakers — a colorway indicates what colors something is available in," he said.
"But I also like the idea that notes and chords have their own colors. A B-flat major will sound different than an A-major, even if the intervals are essentially the same. So to me, every song has its own colorway."
Interview with Alex and show preview in Newport Mercury, 11/15/16
Check out a great interview with Alex that gives some backstory to his time growing up in the South Coast of New England.
Written by Kathleen Troost-Cramer. Originally published in Newport Mercury 11/15/16
In his wild youth growing up in Fall River, Massachusetts, F. Alex Johnson would head south to Newport to hear the local music scene. Now at the age of 46, he's returning, not to listen, but to play. Johnson's trio Colorway, based in Northampton, Massachusetts, will perform their rootsy pop rock at the Broadway bar Pour Judgement on Friday, Nov. 18.
As continuing lead guitarist for the internationally-renowned senior rock ensemble Young@Heart Chorus, Johnson played the Jane Pickens Theater and the Newport Folk Fest in 2008. Now he's eager to introduce Newport crowds to his newest band formed in 2012. In the four years since Colorway's founding, the band has opened for the likes of Foreigner, Delta Deep, Richard Lloyd and The Yardbirds. They also played the 2016 Green River Festival. Johnson was also co-founder of the 1990s alt-country group Drunk Stuntmen.
Johnson said Colorway is "a combination of all the things I've learned" over a lifetime of professional musicianship as well as an exercise in "making music that I want to listen to."
"I'm excited to play Newport," he added. "I'm excited to be playing with these new, young guys," referring to bandmates Matt Clegg (bass) and Riley Godleski (drums). "They love music just as much as I do."
It's a love that goes back to Johnson's childhood, when he started out by learning the violin — although, growing up on classic rock, he didn't always play it in the traditional way.
"I'd hold my violin like a guitar," he recalled with a laugh, "and I'd pluck it like I was Rick Springfield." Shades of things to come were on display when the young Johnson adorned the classical instrument with a Harley-Davidson skull and wings sticker.
Nevertheless, he did take playing the violin seriously, even winning the gold medal at Durfee High School's Fiddle Festival three years in a row starting at age 10.
Johnson's violin training taught him to read music, but it also taught him much more about himself and his talents. "When I started to connect how the intervals make sense, attaching the letter to the note, it made me think I could possibly be good at this. The violin was when I realized, music makes sense to me."
That wasn't the only thing he realized. He also discovered that he could make use of school time to pursue his passion. "I could actually get out of science class and play with the jazz band and no one could say anything to me," Johnson recalled — a habit that led his mom to write his violin teacher a note saying, essentially, "don't let him miss math class anymore."
"I got really good at (the violin)," Johnson said, "but the time came when I had to choose, and guitar won out." He credits this choice to hearing "Stairway to Heaven" during a school music class at age 12. "I went home and picked out the notes," he said. And he was hooked on guitar from then on.
Two years after this eye-opening experience, Johnson received his first guitar as a gift, one he didn't keep to himself for long. "When you start playing music," he said, "you do it for yourself first and foremost, but you want people to enjoy it too." So at age 15, the budding musician started playing guitar in what he refers to as "Portuguese wedding bands" in Fall River, and a year later he was playing with cover bands. A musical career seemed a natural fit.
Since then, Johnson said, "there are no mile markers for me. I've just been playing music. I've managed to stave off a 9-to-5 for the past 10 years."
But playing isn't enough for Johnson. Driven to share his knowledge and passion for music with others and to invest in music's future, he has been teaching guitar to teens, with a focus on classic rock, since 2014.
"There are so many ways you can learn guitar, so many ways you can teach it," he said. "It's nice to work with kids, when you can see when they start learning. Maybe in 25 years my students will be in a rock band and I'll get to see them break out."
For their Pour Judgement debut, Colorway will be performing songs from their acclaimed album "The Black Sky Sequined," named after a poem penned by Johnson's late mother Judy, along with two new new numbers. The band is currently working on material for a new album as well.
"Maybe some day a cover band will play my music," said Johnson. "That would be a treat."
9/1/16 Sounds Local: Change Isn't Slowing Colorway Down
Originally published in the Greenfield Recorder, 9/1/16
By Sheryl Hunter, staff music writer.
It's been a busy year for the pop -rock band Colorway. Since releasing its sophomore album, "The Blue Sky Sequined," in May of 2015, the Northampton-based band has been steadily building its audience and performing throughout the northeast.
Colorway, which is led by guitarist/singer/songwriter F. Alex Johnson, underwent a major lineup change soon after the album's release when original members bassist Dave Hayes and drummer JJ O'Connell departed and were replaced by bassist Matt Clegg and drummer Riley Godleski.
Johnson has been a regular on the Valley music scene since the early 1990s. He spent many years playing guitar for the popular alt-country band Drunk Stuntmen and has been a longtime member of the backing band for the Young at Heart Chorus. And for those of you interested in open mics, we should also mention that he recently began hosting a successful open mic every Wednesday night at Brew Practitioners in Florence. His bandmates, Godleski and Clegg, also have years of experience playing in various local bands, and in addition to their work with Colorway, they are both members of the afro-pop band Shokazoba.
A lineup change like this could slow some bands down, but that hasn't been the case with Colorway.
"I've been excited to have this new band," said Johnson in a recent phone interview.
"We played our first gig together a year ago, then we spent the winter and spring regrouping and teaching the new guys the songs. From there the focus was on getting some good gigs," he said.
And the band has played some good gigs in cities like Boston and Providence, in addition to some high profile shows here in the Valley.
"We got to open up for Foreigner at the Calvin and it was huge sold out show and we rocked it," said Johnson. "We also had a great experience opening for for Delta Deep (featuring Phil Collen of Def Leppard) at the Iron Horse and playing the Green River Festival was awesome."
"We are trying our best to bust into other markets, and we are lucky to live in an area where we are close to places like Boston, New York and other cities," he added.
However, during the month of September, Colorway has a series of shows that will keep them close to home. This weekend, on Saturday, Sept. 3, at 8 p.m. they will serve as the opening act for Flux Capacitor at the Root Cellar in Greenfield. On Saturday, Sept. 17, the band will be at the Basement in Northampton, on Saturday, Sept. 25, at The North Quabbin Garlic and Arts Festival in Orange and on Sunday, Sept. 25, you can catch them on the deck at Whetstone Station in Brattleboro.
Johnson is particularly excited about the Root Cellar show this weekend, as the band will have the opportunity play a brand new venue and to open up for Flux Capacitor.
Flux Capacitor is a trio of brothers from the Philadelphia area, who blend guitar, bass synths, organs, drums and percussion to create a very unique brand of jam heavy psychedelic rock. The trio's music includes traces of rock, improvisation and electronica. Every shows features what the band calls "encounters" that are filled with improvisation, musical segues, spontaneous covers and teases, to create a one of a kind experience. Flux Capacitor is fast making a name for itself on the national music scene and is currently on a U.S. tour in support of its latest release, "Monolith.."
"Flux Capacitor is definitely a band on the upswing," said Johnson about opening for the group. "They played Bonnaroo this past year and the Peach Festival. We are looking forward to hearing them, plus I am a huge Back to the Future fan," he added with a laugh"
"It's going to be fun, and we are hoping we can tap into a new market of people, sort of the jam crowd." He added, "As much as I like to think of this band as a pop/rock band or at least that's kind of the way we started, we are doing a lot of extended stuff, taking the guitar to a whole new level and trying to really make this more about the musical journey as much as the story that the songs tell."
Johnson, who is a very accomplished guitar player, said that with the new lineup he is really trying to build the sound around the guitar. And he was encouraged to hear are recent story on WNPR where they claimed that the guitar is enjoying a bit of a resurgence, after being pushed back in favor of electronic instruments.
"It's kind of nice to see, because I've always been doing this and I'm waiting for people to pay attention again and it sounds like they are and that's a good thing," said Johnson.
With the new lineup settled in, Johnson is starting to write music for the next Colorway album all while keeping the focus on growing the band's fan base.
"This new group has been about getting to know to play with people who I am not familiar with their style and vice versa," said Johnson, "in addition to trying to write new music and expand our market to other areas where people love music around here."
Tickets for the Colorway/Flux Capacitor show are $5 in advance and $8 at the door. Tickets are available at: www.rootcellarbar.com. Music begins at 9 p.m. The Root Cellar is located on Fiske Avenue in Greenfield. For information on Colorway's other upcoming shows, visit: www.colorwaymusic.com
The Wheelhouse
Tonight kicks of a series of shows at the Wheelhouse, the club located at the bottom floor of the Arts Block in Greenfield. The subterranean venue, as they call it, is a cozy little room with the kind of vibe that you'd expect to experience in a classic rock club. The Arts Block, which is now under new ownership, is officially relaunching the room with these shows that are being presented by The Buzz, A Honey Pot Production. The show tonight will feature the power duo Wydyde and progressive rock/jazz band, Hot Dirt. The series continues with The Mary Jane Jones on Sept. 8, Sean McMahon, Seth Newton and Casey Opal on Sept. 15 and Fat Bradley on Sept. 22.
Doors open at 8:30 p.m. and music begins at 9:30 p.m. Admission is $5. The Arts Block is located at 289 Main St. Patrons are asked to use the Arts Block back alley entrance.
The Arts Block has a new website that has more information on these shows and other upcoming events, including information on purchasing tickets. Visit the Arts Block at: www.theartsblock.com
Sheryl Hunter is a music writer who lives in Easthampton. Her work has appeared in various regional and national magazines. You can contact her at soundslocal@yahoo.com
2/19/15 The Hartford Courant's Mike Hamad Interviews F Alex Johnson
Originally printed in the Hartford Courant, 2/19/2015.
By Michael Hamad, staff music writer.
About three minutes into "I Never Changed," the penultimate song on Northampton trio Colorway's forthcoming album, "The Black Sky Sequined," singer-guitarist F. Alex Johnson plays an unfashionable guitar solo, over a show shuffle groove.
He bends and stretches strings, alternating single lines and chords. He harmonizes a composed melody with an overdubbed second part, in thirds and octaves; finally (gasp!) Johnson taps on the fingerboard, '80s hair-band style, with his picking hand. When it ends, he shouts the chorus: "I've never changed!" Clearly, he hasn't
But that disregard for what's trendy is exactly why Colorway is worth seeking out. It's why you root for Johnson and his bandmates — drummer J.J. O'Connell and bassist Dave Hayes — who released a self-titled debut in 2013 and will put out "The Black Sky Sequined" on May 5 in digital formats, CDs and 180-gram vinyl. With Colorway, you sense an unspoken credo: Stick to what you know, and do it at the highest level possible.
In the early 1990s, Johnson played with Soup, a jam-band that "never embraced the hippie aesthetic," he said. When the alt-country craze hit, they became Drunk Stuntmen. "No Depression" ran an eight-page spread on them. Johnson bought a pedal steel guitar.
"We were touring 200 days a year, in various vans that met their demise," Johnson said. "It was one thing after another. We had run-ins with bad luck. We toured, made friends and had amazing experiences. We learned a lot about longevity, about how hard it was to be in a band."
Johnson also learned how to drink. In 2007, after 16 years of steady alcohol consumption, Johnson was arrested for drunk driving, an incident he describes with humor and honesty on Fearless By Default, his personal blog. His mother passed away. Relationships with bandmates became strained; just as Drunk Stuntmen were completing a new album and were preparing to tour, his aunt became ill. "I made the choice to stay home," Johnson said. "That ballooned into 'Why don't you get a fill-in guitar player?' The fill-in guitar player kept on playing. I had to say, 'I don't think I can do this anymore.'"
Soon, Johnson got sober, fell in love and started writing music. He reconnected with O'Connell, Drunk Stuntman's drummer for a time, and Hayes, an old friend and bandmate. "I have a lot of history with these two guys," Johnson said. "I've known them forever. It's great to make music with them."
Colorway's music splits the difference between two competing forces: Johnson's ability to write catchy, short-ish pop songs and his deep-seated love of guitar-based rock. Johnson's voice is rough but sturdy; he doesn't sweeten it with excessive overdubs or vocal effects. Some songs — "Everybody Wants Me to Love You," say — have sneaky-advanced, Squeeze-like chord progressions; others, like "Telephone," offer a glimpse of what their live shows sound like.
Johnson's other gig is with the Northampton-based Young@Heart Chorus, a singing group for members who are 70 or older. Young@Heart was the subject of a 2008 documentary, appeared on "The Tonight Show" and "The Ellen DeGeneres Show" and has toured extensively in Europe and Japan. "I've been with them for 10 years," Johnson said. "They're an amazing group, and I'm really lucky to be a part of it."
Colorway performs with the Dress-Ups and Rick Murnane at the Outer Space in Hamden on Thursday, Feb. 19, and they'll likely tour in the spring. Meanwhile, Johnson continues down the path of what he calls his "third life."
"I really feel like I've lived three lives up to now," Johnson said, "the life up until I started excessively imbibing, the second one up to when I stopped, and the third from the time I stopped drinking until now. My life is different now in almost every way. I notice new things all the time. That's what keeps me sober."
COLORWAY performs on Thursday, Feb. 19, at the Outer Space in Hamden, with the Dress-Ups and Rick Murnane. Showtime is 8 p.m. Tickets are $5. Information: theouterspace.net.
5/7/15 Greenfield Recorder speaks with F. Alex Johnson on the release of The Black Sky Sequined
Originally printed in the Greenfield Recorder, 5/7/2015
By Sheryl Hunter, Recorder music columnist.
"Then it began.
Rockets, Stars, Flowers blooming
The Black Sky Sequined.
Reds, yellows, blues, greens.
Silver and gold.
Fireworks and the cheers of spectators."
The above poem was written by Judith Johnson, the mother of F. Alex Johnson, the singer, songwriter and guitarist for the Northampton-based band Colorway. Johnson came across this poem when going through a notebook of his mother's letters after she passed away in 2007.
"She was a bright, beautiful and stunning woman. It captures her essence completely and makes me smile every time I think about it," Johnson said of the poem.
Johnson who resides in Florence, included the poem in the liner notes of Colorway's self-titled debut album, which was released in 2013. He also decided that the phrase "The Black Sky Sequined" would be the perfect title for the follow-up album that came out this past Tuesday.
Colorway also features drummer J.J. O'Connell of Haydenville and bassist Dave Hayes (who many know as the online as "Dave Hayes the Weather Nut") of Deerfield.
The band will celebrate the release of the new album with a show at the Iron Horse Music Hall in Northampton on Thursday, May 14, at 7 p.m.
"The Black Sky Sequined" features 10 tracks, all written by Johnson, except for "I Never Changed," which was co-written with Jodi Nicholas. Johnson said his goal was to combine his love of rock guitar and pop songs. As a result, "The Black Sky Sequined" embraces a classic guitar rock sound brimming with catchy hooks, fiery guitar solos and memorable riffs. It's the kind of disc that leaves you asking "why doesn't anyone make records like this anymore?"
In the current musical climate, it seems most bands are going for an indie-rock sound or else looking toward traditional music for inspiration. Colorway bucks these trends and instead goes for the kind of timeless rock sound beloved (and missed) by many.
The disc opens with the powerhouse rocker, "Gen Exit" where Johnson sings: "He was a model man/A Beatles fan/A catch in any blessed sea/But he spent every day/A world away/Wondering what he could have been." The song features the tight rhythm section of O'Connell and Hayes, who firmly anchor Johnson's lyrics. The song nicely sets the tone of the disc with highlights including the insanely catchy "Everybody Wants Me to Love You," the first single "Come Back July," which is an ode to the joys of summer, and "Telephone," a song that explores our current obsession with our phones and which benefits from a full horn section.
Johnson started writing this material last summer and kept himself on a tight schedule to guarantee the album would be completed by spring. Some songs like "Come Back July" came quite easy — he wrote that song in about four hours, coincidently on the last night of July. At other times, melodies would come to him in his dreams.
"On some lucky mornings, I'll still have the melody in my head when I open my eyes," Johnson said. "Then, I'll sneak into the bathroom and hum them in my scratchy morning voice into my iPhone's voice recorder. Then, I'll try to see if I can make a song structure with them."
Johnson started pursuing a career in music at 14 and was the longtime guitarist for the local band the Drunk Stuntmen, which he left in 2006. He is also the guitarist for the band that backs Northampton's Young at Heart Chorus.
Hayes and O'Connell are longtime players on the local scene. O'Connell has worked with numerous bands, including Spouse, Hospital and Heather Maloney, while Hayes counts time playing with Rick Murnane and Superkart among his many credits. The three musicians have known each other for over 20 years but didn't play their first gig together as Colorway until the night of the CD release show for the debut album. Since then, they have played numerous gigs, which has led them to be a more cohesive unit.
"That's something you can only get from working as a group, and it certainly becomes apparent when we put the songs together at rehearsal," Johnson said. "Dave and JJ helped shape the songs on the first album, but on this one there was a lot more collaboration with arrangements and production."
Be it blending their voices together on "Explain" or the instinctive way that O'Connell and Hayes know when to step back so Johnson take center stage with one of his amazing solos, this cohesiveness is very much heard on the new album. In addition, Johnson sounds more comfortable and confident as both a singer and songwriter. On the first album, Colorway was testing the waters. On "The Black Sky Sequined," however, the band dives right in and is open to whatever happens next with songs.
"Music can move people on so many levels," Johnson continued. "If I can reach one of those levels with the listener on even one of these 10 songs on the 'The Black Sky Sequined,' I'll call it a grand accomplishment."
Johnson said "Come Back July" is getting airplay across the country as well as locally on WRSI 93.9 — The River out of Northampton. The band also just returned from its first ever tour of the Northeast, which took it as far away as Virginia.
"The response has been fantastic," Johnson said. "This has been a great tour for building up a fan base away from home. I just love seeing people smiling and nodding their heads to songs that are new to them and haven't been played to death by us."
But next up is the hometown show and the band is excited about it. Opening will be another local act, Goldwater the Second, a duo that made up of ex-Figments front man Thane Thomsen on guitar and his partner Melissa Nelson on cello.
The CD will be on sale and will also be available on 180-gram vinyl.
Advance tickets are $12 and available at the Northampton Box Office at 76 Main St., Online at www.iheg.com by phone at 413-586-8686. Tickets at the door are $14. Doors open at 5:30 p.m. Show is all ages.
5/14/15 Colorway in The Valley Advocate

By Gary Carra
Originally published in The Valley Advocate, Nightcrawler 5/14/15
After the band's successful East Coast mini-tour, Colorway's May 14 Iron Horse engagement certainly has all the hallmarks of a homecoming show. It's also a CD release party, celebrating the band's recently completed sophomore studio effort, The Black Sky Sequined.
However, for Alex Johnson — whose words and compositions serve as the palette from which all Colorway music is painted — this Thursday's show smacks of a very personal Mother's Day.
"The title of our new album comes from a poem I found in a notebook in my mother's handwriting," he explains. "It was one of the last things she wrote before she died. So it seems more than a little fitting that we celebrate Black Sky on what would have been her 74th birthday, May 14."
Recorded at Sonelab with Mark Alan Miller over a three-week period last fall, Black Sky Sequined brings two of Johnson's life-long dreams into its fold as well.
"I got to work with the great Bob Ludwig, who mastered the disc up in Portland, Maine," he says. "Another heavy hitter, Chris Bellman at Bernie Grundman in Hollywood, helped us cut 180-gram heavyweight vinyl. So my tunes on vinyl and Bob Ludwig? It's been a pretty boss year, indeed."
Tix for Colorway's CD release party are $12 in advance, $14 at the door and available at iheg.com. And if opening duo Goldwater the Second looks familiar, it's not a figment of your imagination. Rather, its the latest project of Figment frontman Thane Thomsen, accompanied by cellist Melissa Nelson.
5/12/15 The Springfield Republican/Masslive.com
By George Lenker, music columnist
Originally printed in the Republican/Masslive.com 5/12/15
On Colorway's recent brief East Coast tour, a man met the group in a Philadelphia elevator and asked them if they were in a band.
When they said they were, he told them he was a drummer and played in his church. As the elevator doors were closing, he added, "No music, no life."
"I'll remember that for a long time," said band leader and songwriter F. Alex Johnson.
For Johnson, music seems to be life. As a former longtime guitarist for Drunk Stuntmen as well as part of the Young@Heart Chorus' backing band, music would probably flow from any cut he sustained.
Johnson, along with Colorway bandmates Dave "The Weather Nut" Hayes and J.J. O'Connell, will be playing a CD release show at the Iron Horse Music Hall in Northampton on May 14 at 7 p.m. Goldwater the Second opens the show. The concert celebrates the release of "The Black Sky Sequined," the band's sophomore record. Johnson talked a little about the record and the band in a recent interview.
The new album seems different in several ways from the first one. What were you trying to achieve in trying to make it different?
My favorite part of getting older is realizing what you liked about certain things and trying to incorporate them more into your life. And, of course, vice versa.
When I put this band together and recorded the first album, the band had never played live. The songs had only been tested in a small rehearsal space and, even though I'd known Dave and J.J. for years, it's a different thing when you say, "This is our ecosystem and these are the goals for survival" and then go put yourself out there. So while I liked finally having my own platform to express myself musically, I learned in short order that to connect I had to make my music "our" music. And while the songs are still my compositions the collaboration was deeper.
We had time to play live a lot in the last two years and see what works when there's no erase button. I've heard from a few people now who have said that the new album sounds like a real band and not just my songs with two guys backing me up. I think that leads to more finesse when it comes to production and things just seem to flow better. We learn as we go, we learn as we grow.
What do you like better about the new album compared to the first one — and is there anything you like better about the first one?
I think the first album has a rawness to it that I dig. That said, I'll always love the acoustic instrumental "For The Birds" and the couple of more mellow tunes that we don't really play much anymore.
The new album has a more confident and relaxed feel, I think. And part of that probably stems from a mindfulness course I took last spring (a gift from my girlfriend who sensed my amplified stress level). I think realizing that this moment right here is more important that the one that happened a week ago or the one that's coming around the bend is a powerful tool. Once I learned a few of those lessons, I found the songs came from a more cohesive place–a place I'd want to hang out in and invite some friends over.
How has the band itself changed from the first record to now – in terms of dynamics and playing together?
We play more to each other, I hope. I try to look back at each guy more even though it's somewhat difficult being in the middle, singing, comping and soloing. But these things come with time. The more we play, the more we play well together.
You don't see a lot of three-piece rock bands these days. What are the advantages — and disadvantages — of using a sparse lineup?
We can get one hotel suite with a sofa bed for all of us. That's a definite plus. And while, who knows, someday we may add another guitarist or keyboard player, I think the visual symmetry of the trio is attractive to me. I think it's gotten easier to split the rhythm/lead stuff up as we've grown as a band. It's challenging but totally worth it when you see and hear it happening.
Colorway Feature In The Valley Advocate June, 2013

The Color of Dust
F. Alex Johnson cleans the countertops of his soul with his new band, Colorway.
(Published in print June 27, 2013)
By Tom Sturm
Much of the material on Colorway's debut album came from dreams, says songwriter and primary creative force F. Alex Johnson. On his nightstand the singer/guitarist keeps an iPhone, whose voice memo app he sometimes wakes up in the middle of the night and hums melodies into.
"This never used to happen," he says. "It used to be so hard to write music—now I don't know if it's the sobriety, I don't know if it's the enjoyment of life, I don't know if it's me being in love, I don't know if it's the seasons changing or what, but for some reason they started coming to me."
Johnson isn't shy about recounting his years of alcohol and drug abuse; he's documented them extensively in his locally known blog Fearless By Default, and he's very open about how his life and his songwriting have changed in his five years of being sober. A longtime member of The Drunk Stuntmen, his role in that band—perhaps because of his generally limited functionality at the time—seemed to have settled into the background as a sort of George Harrison to Terry Flood's and Steve Sanderson's Lennon and McCartney.
"I think I always had an ego waiting to come out," says Johnson, "an alpha behind the beta. At that time though, my ego just basically manifested itself by saying, 'I can do whatever I want,' and if what I wanted was to drink a bottle of vodka, then that's what I did. If it was on a gig day, I felt bad, but that was how it was."
Johnson says his interest in exploring a trio format was piqued by an earlier side project, The Spoils, which alternately featured bassists Ed Mubarek, Kurt Fedora and Kevin O'Rourke and drummers Brian Marchese and Don McCaulay. In Colorway's trio equation, the rhythm section of Dave Hayes (bass) and J.J. O'Connell (drums) has brought him back to a place where his is the primary voice—be it sung or played on his instrument. Is it his mission to bring back the guitar solo?
"When you and I grew up, we listened to Led Zeppelin, Van Halen, etc.—now they call that 'classic rock,'" he says. "I want to make music that makes people feel like I felt when I heard those songs on the radio as a kid. Is it my mission to bring back the guitar solo? I guess you could say so, yes, and I would like to bring back more of what they call 'classic rock,' and maybe make it current again.
"My vocal range doesn't have much in the high end," he reflects, "so I guess my guitar playing is an extension of that; it goes farther than I can sing. I like to give a little bit of melody, and a little bit of "zazz" or "zazzle"—whatever you want to call it."
Johnson's new songs, and the fact that he whipped them out in a period of perhaps two months in between touring with the Young@Heart Chorus, are also deeply conscious of his own mortality, and perhaps playing with the Chorus (which lost more than a few members in the last couple of years) has kept him keenly aware of the brevity of human life in general.
"My family's shrinking rapidly," he says. "I don't know what's around the corner. If I go by my family history, my mom, my aunt, my grandmother, they all died in their 60s, and I'm 43. I'm not going to say that I'm afraid of dying tomorrow, but time is ticking faster, or at least louder, and I feel an urgency to get this stuff out."
Johnson also seems to have finally arrived at a place wherein his songwriting more accurately reflects his own life, feelings and whatever personal philosophy he's cobbled together.
"From the time I was 18 until I was about 38," he says, "I would write in other peoples' characters, like I was someone else. If you look back at those Drunk Stuntmen songs of mine, they're all about characters. Since I stopped drinking, since I stopped smoking, since I stopped doing everything, I've written from my own first-person perspective, talking about 'me,' 'we' and 'I' instead of 'he,' 'she' or 'it.' That's something I didn't even realize until I listened to the record."
If there's a theme to Colorway, it seems a bit of a lonely one.
"Dave and I are both only children, and none of us have kids, so maybe there's something about that," says Johnson.
Still, the man has been dramatically transformed by the events of the last decade, and his life at the moment is not what you'd call lonely. His companion Jodi Nicholas is, he states, a big part of his life, and is credited for a song on the album ("Go Back to Sleep") because it was essentially transcribed from something like a lullaby she sang to him when he woke from a bad dream one night.
"That song wouldn't be here if it weren't for her, and I don't know if I would've been here if it weren't for her," Johnson says with a palpably genuine tone of gratitude in his voice. "I don't want to get too mushy, but she's a big part of my life and a big part of me keeping my shit together."
At the end of our interview I corner Johnson with a metaphysical question that he, to his credit, meets head on with the honesty and self-examination that have clearly been required of him in the last half-decade.
VA: What do you think about most of the time?
AJ: Dust. It's infinite. I clean it from countertops every morning and it goes into the windows and gets exposed by raking light.
When I stopped my excessive lifestyle, the little things like keeping my house clean became so important to me. I like to keep everything in place in my house, because who knows if I'm coming back? I've had a lot of loss in my life. Even contemporaries can just… vanish. Life is so random like that. Also, dust is us—most dust is made from our skin. So it's not quite rock 'n' roll, but I think about it a lot.•
Daily Hampshire Gazette:
Clubland: Guitarist F. Alex Johnson releases CD with new trio, Colorway
(Published in print June 27, 2013)
By Ken Maiuri
Guitarist F. Alex Johnson started his musical path early in life, playing violin in first grade — though he eventually stuck a Harley-Davidson skull sticker on his instrument case "to try and make it a little more rock-and-roll." (A hint of things to come.)
Christmas 1980 was momentous for the then 10-year-old Johnson in his Fall River home: His loving mother gave him a kid-sized Castilla acoustic guitar. He'd already been holding his violin like a guitar, plucking out notes; it didn't take long for him to decide he preferred the real thing.
Freshman year in high school found him in his first band, named CIA, which stood for Creative Image Artists. "I came up with a logo and everything," Johnson said with a memory-lane grin during an interview last week.
He reminisced about the day he grabbed his guitar and small amplifier and descended into the drummer's basement for his first-ever, full-on band rehearsal — "rockin' out — it was the best feeling in the entire universe," he said.
"We ended up playing one of the school dances, which was a bit of a catastrophe, but we did it. I said, 'I have to do this forever.' "
Johnson has held onto that passion for making music, and this year marks a milestone for the guitarist, best known for his time in the Drunk Stuntmen (which he co-founded, but left in 2008) and the Young@Heart Chorus band (of which this writer is also a current member) — he's started his first "real" project, a trio called Colorway.
It's a uniting of longtime musical friends. Bassist Dave Hayes first played with Johnson at the Hadley Pub in 1991, right after the guitarist moved to the Valley; drummer J.J. O'Connell spent years behind the kit for the Stuntmen.
The threesome celebrate the release of Colorway's self-titled debut CD with a show at the Iron Horse in Northampton Saturday at 10 p.m. Dave Houghton will start off the night with a solo performance.
When Johnson was asked what made him decide to move into the spotlight now, with his own band and his own songs, he said, "I lived my 20s for 20 years," he said.
"Turning 40 was a big change for me. You start to feel mortality," he added. "I won't say you start to feel time ticking away a little bit louder … but you kind of do. The seasons move faster. I didn't want to play 'making a band.' I really wanted to do this the right way, and do it all the way."
That newfound sense of purpose is apparent from the album's forceful first sounds — a distorted, crunching guitar and Johnson's impassioned voice: "I've never felt this before / These eyes won't ever be the same / I am ready."
The song is "I'm Still Running," and its last line is "How the hell am I alive?" Johnson gave some background on the tumult he went through as 2007 turned into 2008.
"I got into a little bit of legal trouble, and it was just time: I had to stop drinking, stop smoking, stop everything, and try life as-is. I got sober. It was on the heels of my mom dying, who was my everything."
Death is the underlying subject of the upbeat, power-chord-filled "This Happens To Everyone," a song inspired by one of Johnson's long-ago ex-bandmates, a drummer who'd stayed in Fall River, "lived hard" and was suddenly gone at age 43. "He was the first of my contemporaries to pass away, and that really shocked me," he said.
The varied album, recorded in full-spectrum sound by Mark Alan Miller (another recurring collaborator in Johnson's musical life), includes the folky fingerpicked "Everyone Makes the Day," the jazzy lullaby "Go Back To Sleep," plenty of big rock and inspired electric guitar solos but also a solo acoustic instrumental, "For the Birds," which holds its own among the louder numbers just like Steve Howe's "Mood For a Day" did on Yes' classic "Fragile" album.
And the closing song, the nearly eight-minute "A Temporary Occupation," lifts the album to another place. The shifting chords are beautiful and the striking string section, arranged by Dave Trenholm, makes the song seem related to Love's "You Set the Scene," but with a darkening sky, a heavy heart and a coda that sounds like a slow sink into the quicksand.
"This is a temporary occupation because we are occupying this life for however long," Johnson said. "It could end tomorrow, it could end in 40 years. Hopefully we get good at it and enjoy it to its fullest before we go. I know some people who went through life seemingly on a treadmill, never really enjoyed things, never really figured out that life is here to live."
"I try not to preach," he added, "but I tried to make this record a bit of a living will, or just a reference point so I can look back and say, 'This is how I was feeling, this was the clarity that I saw.' And hopefully the clarity will continue.
http://www.gazettenet.com/artsentertainment/music/7101307-95/clubland-guitarist-f-alex-johnson-releases-cd-with-new-trio-colorway
The Greenfield Recorder:
In a good place
Now sober, F. Alex Johnson has more music to make with Colorway
(Published in print: Thursday, June 27, 2013)
You're about to meet me again/For the first time/And the last time I can hardly wait to begin/At the ending," sings F. Alex Johnson on "I'm Still Running," a hard-rocking tune that opens the debut album from his new band Colorway. The song features an ear-grabbing chorus and some of Johnson's amazing guitar work, but it is lyrics like "I made it out with my life/the lucky man who played with fire," which allude to his years of drug and alcohol abuse, that serve as the launching pad for the entire disc.
Johnson, who lives in Northampton, was the guitarist for the roots-rock band The Drunk Stuntmen for 15 years. He left the Stuntmen in 2008. That decision followed a number of major life changes, including the deaths of his mother and aunt. But perhaps the greatest change occurred on Dec. 27, 2008, when a DUI arrest forced him to take a hard look at his life and come to terms with years of substance abuse.
"I was lucky enough that fate, the law, my bod, it all, said 'stop' and I listened," he said in recent interview at a Northampton cafe. "So when I say you meet me again for the first time it's as this new person. I stopped everything that Dec. 27th, and it took a long time to get to the point that I felt real again. But now I'm living this new person's life and I don't want this person to go anywhere, because I like him and it's taken a long time for me to like me."
Five years into his sobriety, Johnson is in a good place, both personally and professionally, and he is more than ready to begin the next phase of his musical life with Colorway.
In addition to Johnson, Colorway includes seasoned valley musicians drummer J.J. O'Connell and bassist Dave Hayes. The trio will make its debut and celebrate the release of the new album with a show at the Iron Horse Music Hall on Saturday, June 29, at 10 p.m. Dave Houghton of Fancy Trash will open.
While this is Johnson's first recording in five years, he has not been idle by any means. He has been writing, including a personal blog at www.fearlessbydefault.blogspot.com, and has been playing guitar and traveling the globe with the Young at Heart Chorus since 2004.
Johnson started playing violin at the age of 5 and picked up guitar at 10. Music has always been the centerpiece of his life, but there was a period toward the end of his substance abuse when that wasn't the case.
"Music just didn't hold the pleasure that it used to and that was why I knew it was time to do something, because a life without music isn't worth living," he said. "I slowly but surely regained my love of music to the point where I could create in my own voice and bring it full circle, where I could go into a recording studio and put it all on a CD and let the world say 'yea' or 'nay.'"
When songs started coming to him in his dreams, it not only set him on a writing frenzy but also got him thinking that it was time to do a record. Once he made the decision, the project quickly came together.
"It was done fast, but I have a great band and what helped is that J.J. and Dave are such quick studies," said Johnson. "Even though I wrote all the songs, they helped arrange some things and they both sing."
Superb production and playing, memorable tunes and honest lyrics about love, loss, hope and desperation make "Colorway" a debut listeners won't soon forget. Johnson calls it a rock album and said that the disc will appeal to listeners who enjoy Richard Thompson, Wilco and The Black Crowes. And while the disc does indeed rock and features his excellent expressive guitar work, there are some decidedly nonrock moments here, including the acoustic instrumental "For the Birds" and the lighthearted pop of "Live with Me." The song Johnson said he is most proud of is "A Temporary Occupation," a 7½-minute tune that closes the disc. A beautiful sweeping song that features strings (impeccably arranged by Dave Trenholm), it builds up to Johnson singing "I wish it wasn't over/ I had so much more to explain." It is a truly standout track in a strong collection of songs.
"That song is kind of me telling you I have more to say, but I have to stop here," he said.
"I feel that it sums up the record. It ends the conversation the best way I could imagine."
The Iron Horse show not only marks the debut of the album, it is also the debut of the band, whose only previous appearance was at a local Robyn Hitchcock tribute show. This will be Colorway's only show of the summer.
Johnson said he looks forward to the show and said it feels good to be performing with a clear head.
"It's easier to get on stage now, but it's still scary because there are millions of things that can go wrong. But now I know that I won't make a mistake or forget the words because I am not in a state that I shouldn't be in."
Johnson admitted that releasing an album is a scary prospect, but he is pleased with "Colorway" and hopes that listeners will find it worthy of their time.
"I had stopped creating and enjoying music because I felt there was no more music for me to make," he recalled. "But finally I feel there is more music for me to make and I want to do as much as I can with this music and this record. "
Tickets are $10 in advance and $13 at the door. Advance tickets are available at www.iheg.com, charge by phone at 413-586-8686 or at the Northampton Box Office on 76 Main St. The CD is available at iTunes and Turn it Up! on Pleasant St. in Northampton.
Sheryl Hunter is a music writer who lives in Easthampton. Her work has appeared in various regional and national magazines. You can contact her at soundslocal@yahoo.com
Springfield Republican:

Club Scout: Colorway brings 50 shades of playing to Iron Horse Music Hall
By George Lenker
Published in print June 27, 2013
F. Alex Johnson has led a colorful life so far.
From his high-wire guitar acrobatics with the Drunk Stuntmen to his current globe-trotting gig with the senior citizens of the Young@Heart Chorus, Johnson has seen many hues of life's spectrum. So it's no wonder he dubbed his new band Colorway. The group makes its debut appearance at a CD release party at the Iron Horse Music Hall on Saturday at 10 p.m.
Johnson has a different explanation of the band's name however.
"I can't read music," he said. "So the way I write, hear and feel the notes and chords is by the colors they evoke. A Bb has a different color than an B. It provokes a different mood. I liked the idea of music and color being so connected. Even if you're colorblind you still see varying shades."
Starting in 2008, Johnson took some time off from writing music to focus on getting clean and sober, as well as blogging about the experience. But he never stopped playing guitar.
"Time passed on and I found myself in my forties. It's a beautiful age–the burn of leaving one's twenties a distant memory, and still far enough away from fifty to consider voluntary major life shifts a challenge and not a burden," he said.
So having written a handful of songs in the past few years, Johnson decided to take a leap. He called bassist Dave Hayes and and drummer J.J. O'Connell who both enthusiastically jumped into project. Wasting no time, Johnson booked studio time with local impresarios Mark Alan Miller at his new SoneLab Studios and even booked the Iron Horse gig long before the record was done.
"If I let something sit too long it'll either go stale or get up and walk away on me," Johnson said of his sense of urgency.
The recording process went quickly and smoothly, he said.
"There wasn't a ton of second-guessing. When it felt right it felt right," he said. "I've worked with Mark on several Stuntmen albums and so we have a great rapport."
The result is a forceful rock 'n' roll document that has just enough round edges and bits of sweetening. Johnson gives a lot of credit to his bandmates for the electricity of the record.
"We all knew from the start that this was going to be a rock record. There's some deviation from that, of course, but the rock remains the focus," Johnson said. "And both of these guys know all too well how to make that happen. As a rhythm section they seem to be able to give even the most basic of progressions a boost of confidence and urgency."
The Iron Horse is at 21 Center St. in Northampton.
http://www.masslive.com/entertainment/index.ssf/2013/06/club_scout_colorway_brings_50.html